Tuesday, May 31, 2005
11:58 PM
ptg td my boo br smpai umah die kat sini..die blk ngan adek die..coz fmily die yg laen dh lame blk sni..pastu dlm kul 9lbih duk maen2 msg ngan die..then die kate nk kuar mkn..die sruh me tmankan..mase duk tgh mkn tetibe ex gf die call me..urghh?!me layan je..die tnye me kat ne..me ckp me tgh mkn..die tnye ngan sape..pastu me tkar topic..haha!kalo x kantoi..lpas mkn g round2..hehe besh2..dh lame x jmpe..uhux!dlm kul 12lbih br blk..miz ya muachx..
Lot's Of Luv,
NiEjA MuHaImI ®*
|
---
Monday, May 30, 2005
11:42 PM
Siti Muniza Binti Salleh @ Muhaimi
2406HCMD044 (861020 – 29 – 5788)
Pt 2279, Bandar Permaisuri,
22100 Setiu,
Terengganu.
Miss Nur Ashikin
Coordinator Hotel and Catering Management
SAL College, Senai,
Johor Bahru.
30 May 2005.
Dear madam,
ABSENTEEISM FOR CLASSES FOR A WEEK.
I Siti Muniza Binti Salleh @ Muhaimi, matrix number 2406HCMD044 hereby would like to ask permission for a week - absenteeism 30th May 2005.
2. The reason for not able to attend the classes is that my father is not being well at this moment. He was admitted in USM Hospital, Kota Bharu for about 2 weeks and now he is still under treatment after an operation. There is going to be another operation on 5th June 2005.
3. I hope that you will inform the lecturers who will teach me this semester because I still do not know who are lecturers for all the subject that will be taken.
4. Thanks you for your cooperation and please do not hesitate to call me at this number 013 9253350 or 017 - 7664675, if there is anything I should know.
Thank you.
Yours truly,
…………………….
Siti Muniza Salleh @ Muhaimi
2406HCMD044 (Group 40B)
861020 – 29 – 5788
Attention : Culinary Art lecturer
English Communication lecturer
Event Management lecturer
F & B control lecturer
Lot's Of Luv,
NiEjA MuHaImI ®*
|
3.15am kitowang[mirna,iwan,kiki,adik,faris n me] blk t'ganu..hoho dr klantan..dr kul 11 lg plan nk blk..pastu g mkn la..tgk tv la..uh!smpai kat jerteh brenti kat petronas jap..kucing mirna[angel] buat hal plak..neh yg x ske neh..i dunt like cat..yuckk~..smpai umah dlm kul 4.45am..maen game jap..pastu duk borak2 ngan adek bradek me...lpas sbuh br tido..ngeh ngeh`..lupe nk kjutkan my boo arini..dlm kul 12lbih me tsedar pastu sms die..die pon ckp x sdar gak pg td..haha seb baek exam ptg..2day die last paper..wuhuu~ sok die blk..lalala~miz ya sayunkk..kalo ikotkan 2day me dh masuk sem baru..but tpakse mintak cuti 1week coz my dad still under treatment lg..n nxweek operate lg..uh!seb baek me dh sruh emy dftarkan..me,nat n na..haha!bdak2 pntai tmur yg plg bangang nak cuti lebih je..owang laen cuti 2-3weeks pon g awl gak maklom ar diowang ade bf ktsane..lalala~ td ziela call bgtau arini joto highschool dtg kat college..thn lpas mase me memule masuk blaja kat situ bdak jepun 2 dh dtg..neh dtg lagik..pastu die bgtau class me diz sem ari rabu,khmis n jumaat je..ngeh ngeh`..so plan nk tmbah sub housekeeping but tpakse amek ngan group 40a n 41..so x tau lg nk amek ke x..then ziela ajk amek bsiness acc ke ape ntah subject tu..so dlm ptimbangan lg..coz last sem dh amek acc..takot pening haha!dh la me neh x terror acc..hurm nk taip surat cuti lak..wuhuu!besh..tmbah cuti 1week..n dgr2 citer bdak2 laen pon nk masuk nxweek gak coz group 40a nxweek br ade class..mane aci cmni..40b pon nk cmni gak..baru fair..whuaa whuaa..mampos la kalo lect nk mrh pon..yg pnting me nk antr srat sok kat clge..
Lot's Of Luv,
NiEjA MuHaImI ®*
|
---
Saturday, May 28, 2005
10:24 PM
2day sha n fmily g ipoh..my bro,chox pon ikot skali..g antr sha coz die practical kat hosp ape ntah dh lupe..kalo ikotkan ati nk aje ikot..but rase xsmpat je coz diowang myb blk klantan ari khamis skali ngan teh n cik jon..me nk kna prepared brg nk g jb lagik..uhh!kna blk t'ganu lagik..ade keje tu la ni la..urghh!
Lot's Of Luv,
NiEjA MuHaImI ®*
|
---
Tuesday, May 24, 2005
10:17 PM
hoho~plan nk kuar ngan adaa n sha arini..but x jd lak..tgh duk syok tgk citer thai tetibe mai smpai..nk dtg x bgtau awl2 minah neh..kebtulan die dtg nk jmpe ngan ex bf die(kazen me) huhu~ pastu ajk me tmankan die g service aircond..so ape lagik..kaki dh okie sket..so berjalan la keje..seb baek la time mgurut x brape saket..bagus btol pakcik tu..kalo x msti mjerit pnye haha!pastu on da way nk g service aircond tu mmber mar call bgtau nk ikot gak..so g amek diowang dlu..lija n ijo..smpai kat workshop owang tu kate x smpat lak kalo nk service arinie..ceyt!so..mronda la jwbnye..pastu g mkn kat mamak spicy..roti tisu..besh~! thanx mar..asyek mar jew blanje..ngeh ngeh`..pastu g antr mmber mar..then g amek ank sdar mar kat skewl..athira..athira..??!huhu..dlu tgk time die kcik2 jew..dh besor neh lawo..nie la athira yg adli n muiz slalo sebut..pndiam je..pastu g amek apple lak..apple cm biase ah coz slalo kuar n lepak sesame ngan die..same2 cantek 2bradik tu..cm mak sdare die ar..hoho~ pastu mar g antr me umah..smpai umah tgk adaa n sha ade..plan nk kuar mlm tu..but ade keje lak..
Lot's Of Luv,
NiEjA MuHaImI ®*
|
---
Monday, May 23, 2005
6:37 PM
mlepak ngan mar n apple..
huhu..2day duk umah jew..pastu mar ngan apple dtg..so mlepak jew la keje..haha~duk bcerita tu la ni la..mcm2 mar neh..
Lot's Of Luv,
NiEjA MuHaImI ®*
|
---
Saturday, May 21, 2005
11:19 PM
smlm me tido umah adaa..lgpon adek bradek me smue dh blk trg..tngal me n my bro,chox jew..memule me plan nk blk gak..pastu pk2 x jd lak..hehe~smlm duk lpak2 ngan adaa,muiz n adli smpai pagi..uh!mcm2 duk citer..camni la bile dh lame x jmpe nga kazen2..arini bgn awl sket..dlm kul 11lbih..ehex..lpas mandi..lunch..dlm kul 2.10pm mmber ada,p-ja..(mmber chat me gak)dtg..ni ar 1st time jmpe bdak p-ja neh..cun gak tomboy2 pon..ehex..pastu g amek sha plak..nadia nak ikot tp tuisyen plak..wohoo~bdak skool mmg kna blaja..wkakaka!memule kitowang g jejln kat pntai timur..pastu g the store..pastu g mydin..gi kb mall..g vincci..ntah dh x ingt mane lagik g...pnat btol..tjuan nk g cari kasut sha jew..pastu g mkn kat family rest..bleh la tahan..dlm kul 4lbih my mom call bgtau die dh kat umah coz my dad dh bleh kuar hspital..lpas mkn g cari kasut sha lg..last2 abes smue kitowang ronda..xde yg bkenan..ceyt!pnat jew..susah btol sha neh..tu x bkenan ni x bkenan..<---haha sdap kate owang..kalo me pon same jew..dh namenye kazen..uhuhu..plan nk g kb mall blk coz die kate bkenan kasut yg kat vinnci tu tp dh lmbat..g vincci satu lg xde lak..last2 blk jew..lpak2 umah adaa jap..pastu p-ja call ajak g airport lak..kate ade pmeran ape kejadah la plak..time nk trun tnga tu..me tjatuh tnga..kaki tseliuh..huwaa!saket gile..tp tetap bdegil nk g gak..time g airport tu okie lagik..smpai jew umah adaa..urghh!hnye tuhan je yg tau btapa saketnye..pastu trus blk umah nenek me..mlm lak mar call ajk kuar..kuar?!wohoo ikotkan ati nk ajew pegik tp kaki saket smpai xleh nk jln..huwaaa..kena mrh kat my mom..my dad n aunt2..hoho pdn muke me..tp wat bodow jew..dlm kul 8.10pm mar dtg ngan anak sdare die,apple..lpak2 jap..dlm kul 8.30pm dh blk..die nk tgk af..me pon nk tgk haha..!
Lot's Of Luv,
NiEjA MuHaImI ®*
|
---
Friday, May 20, 2005
9:09 PM
wuhuu~kul 2lbih sha msg ajk g kb mall arini..so me sruh die bgtau adaa skali..lpas mandi g lunch umah adaa..dlm kul 3lbih sha smpai ngan fmily die..memule me,adaa,nadia n sha jew yg nk g tup tup shafiq,kiki,farhan,sri pon nak ikot..sebok jew..geram btol..pastu g jejln kat kb mall..xde sales pon..buhsan btol!pastu g food court coz dh janji ngan kiki,shafiq,farhan n sri..lpak2 sane..mkn tu..mkn nie..mcm2 haha!besh jgak kuar ngan kazen rmai2..1st time jmpe ngan bf sha..helmi..wohoo pmalu konon!ehex..xpe musti die segan jmpe ngan bakal2 kazen die neh..whuaa whuaa..pastu lpas g shopping2 sket..dlm kul 6lbih umi n pa sha dtg amek..nk blk tu jmpe mimie n mirna lak..ceyt!g bezday party anak tiema..hoho~ blk tu singgah umah ciksu jap antr shafiq n farhan nk duk sane..pastu trus g hspital..tgk my dad..
Lot's Of Luv,
NiEjA MuHaImI ®*
|
---
Thursday, May 19, 2005
5:29 PM
dlm kul 3lbih cikna sms me..bgtau 2day my dad kna operate..but my mom xde bgtau ape2 pon..dlm kul 9lbih my mom call bgtau my dad br nk operate..huh!2day kitowang blk kaybee..tgk my dad..2day my boo start final..gud luck dear..do da best..muachx..muachx..
Lot's Of Luv,
NiEjA MuHaImI ®*
|
---
Sunday, May 15, 2005
10:18 PM
2day bgn lmbat sket..ehex!dh lame seh x bgn lmbat..bgn2 jew dh tghari..pastu bsh2 baju n masak ngan sha..after lunch dk lpak2 kat cc..dlm kul 6lbih mirna ajak kuar mkn..tgh2 mkn bf me sms bgtau nk jmpe..jumpe?!yahHoOoO..!nak2..sape xmo..ngeh ngeh`..after mghrib lpas2 mkn kitowang g kdai jp g bli brg2 dpur then trus blk umah..pastu my bf sms bgtau jap lg die smpai..pnye la lame me tngu..me call xdpt2..geram btol ngatkan die dh blk dngun mane la tau xjd jmpe xmo bgtau..rase nk mgamuk jew..last2 dlm kul 8lbih die call bgtau die dh kat luar..ehex.!dtg antr cd peterpan..jmpe kjap je dlm 15min gitu la coz die pon dh nk blk dngun 2morrow die ade class..dh la arini dh pnteng coz kazen die kawen..huhu~besh2 jmpe my boo..muachx muachx...miz ya sayunkk!
Lot's Of Luv,
NiEjA MuHaImI ®*
|
---
Saturday, May 14, 2005
10:09 PM
smlm smpai dlm kul 1lbih..pastu dk lpak2 ngan adik bradik me n my kazen..after smyg subuh br kitowang tido..uh!so tired..dlm kul 10lbih dh bgn my sis,mirna n my bro,ewan kjutkan coz diowang nk kuar g bli brg2 umah..nk cont tido blk x bleh..so tpkase la bgn..dlm kul 11.00am esah smpai..dlm 10min lpas tu i'shah lak smpai..besh2..lpak2 ngan diowang..diowang nyer rsult matrix okie la jgak..dlm kul 1lbih diowang blk then me n mirna masak utk lunch pastu kmas2 umah till ptg..pnat!!!cmni le bile parents xde kt umah..tpakse wat smue tu..dlm kul 6.15pm kitowang g pntai..then g mkn sotong..ikan..pastu g playground lak..si faris la sebok nk maen..kitowang pon join ar skali..akkekeke!besh~
Lot's Of Luv,
NiEjA MuHaImI ®*
|
epi bezday 2 muiz n ziera..
epi bezday 2 my bluved kazen,muiz..<--dah2 lew jadik buaye..ngeh ngeh`..n epi bzday 2 my fren,ziera..
Lot's Of Luv,
NiEjA MuHaImI ®*
|
---
Friday, May 13, 2005
9:57 PM
mlawat my dad..
uh..dlm kul 12.45am kitowang smpai kaybee..pnye la byk roadblock..biase ar mlm jumaat..blk umah lpak2 jap..then g umah mummy jap..dlm kul 1.45am kitowang kuar g bli klape jelly..yummy yummy..besh gile..pastu g bli chickhen chop..wuhuu!besh..~lpas mkn tgk2 tv jap..dlm kul 4 br tido..bgn2 dh tgahri..lpas lunch kitowang g florist but smue tutup..dh nk masuk 20kdai kitowang pegik but smue close ampeh jew..blk umah then me g umah kazen me,ada but die xde umah lak..kuar ngan aunty die lak..g umah sdare die..nmpaknye x jmpe lg..really2 miz her..kalo x slap last skali me jmpe time raye aji..tu pon kjap jew coz me cuti x lame..lpas blk umah ada kitowang pegik hspital tgk my dad..lpak2 sane smpai mghrib..pastu blk umah dinner..then g umah my aunt,umi yah..kbtulan my kazen,sha pon nk ikot me blk t'ganu..pastu dlm kul 11.45pm kitowang g antr my mom kat hspital coz my mom yg jg my dad kt hspital..naik jmpe my dad jap bgtau yg kitowang dh nk blk.sedey2..kitowang adik bradik jew yg blk umah tmasuk my lil bro,faris..huhu~
Lot's Of Luv,
NiEjA MuHaImI ®*
|
epi bezday 2 my bluved kazen,aimi khairunnisa'..n also 2 my ex bf,fairul hakim..hoho~
Lot's Of Luv,
NiEjA MuHaImI ®*
|
---
Thursday, May 12, 2005
9:46 PM
2day tpakse bgn awl..coz kiki skewl..prepare brg2 die nk g skewl..urghh!pastu cont tido blk..ngeh ngeh`..dlm kul 10.00am me dh bgn..then call syafa sruh dtg but die ade keje lak..so juz duk mlepak kat umah jew..kmas2 umah..tghari lak masak lunch utk adik me..kbtulan my uncle pon ade dtg..dlm kul 11.20pm kitowng[me,iwan n kiki]btolak blk kaybee..
Lot's Of Luv,
NiEjA MuHaImI ®*
|
---
Wednesday, May 11, 2005
9:40 PM
hospital usm,kubang kerian
2day me bgn awl gilew..fmily me pepagi lg dh blk kaybee..my dad masuk hspital..but me xblk lg coz my sis,kiki tgh exam so tpakse tngu die dlu..mayb 2mrrow blk..neway doakan my dad cpat smbuh ek..td tgk gerak khas..coz aritu si suhaimi bgtau die blakon dlm citer tu..haha jadik samseng..samseng ensem..ngeh ngeh`..
Lot's Of Luv,
NiEjA MuHaImI ®*
|
---
Tuesday, May 10, 2005
10:43 PM
uh 2day bgn awl la jgak dlm kul10lbih dh bgn..after breakfast duk lpak2 smbil bace magazine..pastu nana n syafa smpai..dlm kul 1lbih diowang blk..pastu me ol9 jap coz kelly msg me sruh me ol9..uh buhsan gilew arini xde g mane pon..duk lpak umah jew..tgh duk tgk tv tetibe blackout..urghh!geram btol..smpai mghrib lak tu..lame gile..buhsan buhsan buhsan!!
Lot's Of Luv,
NiEjA MuHaImI ®*
|
---
Monday, May 09, 2005
9:52 AM
nana..nieja..syafa..frenz4eva..

Lot's Of Luv,
NiEjA MuHaImI ®*
|

ngeh ngeh`..2day bgn lmbat gilew..dh lame x bgn lmbat ek..ehex!biase ar smlm pnat gilew..ye ah smpai dr jb trus x tido2..dh la dkat 2week x ckup tido..biase ar time exam..huhu~dlm kul 4lbih smlm br tido..sdar2 my mom kjutkan ajak blk kaybee..memule nk pegik pastu rase cbadan pnat gilew x larat..so x pegik ar..after lunch me call nana bgtau me x jd blk kaybee..then ajak nana dtg umah..pastu duk lpak2 kat cc jap..scan pic bdak2 neh..dlm kul 4lbih nana dtg..then trus g umah syafa..lpak2 umah syafa smpai mghrib..besh2 dh lame x jmpe diowang..pastu nana ajak g psr mlm..but me xmo..segan ar!lgpon me x suke g tmpat2 camtu..uhux~..mane neh fmily me x blk2 lg..nyesal lak x ikot blk kaybee td..lalala~
Lot's Of Luv,
NiEjA MuHaImI ®*
|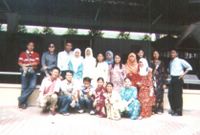 hoho~

Lot's Of Luv,
NiEjA MuHaImI ®*
|
miz ya frenz..

Lot's Of Luv,
NiEjA MuHaImI ®*
|

ngeh ngeh`..lega rasenye dh abes fnal..but result ntah la cmne..bior la dlu rsult tu..but me dpt rasekn pointer me akn jatuh..y?coz sub pgajian islam..urghh!saket ati pon ade..tngu jew la rsult nanti..hurm sem nie 2 subject yg me x ske..1st accounting..urgh!ngatkan amek hotel catering xde account2 neh..haha!tp xpe..ade faedahnye jgak blaja bnda tu..2nd pgajian islam..me bkan x suke blajar pgajian islam..but ustaz tu lorat sgt..ade je yg x kena..blaja laen soxlan exam laen..x kuar pon ape yg die ajar..pastu bile kitowang ikot pdapat kitowang msg2..die bleh x kasi mark plak ek..saket ati pon ade..ikot skema die smpai bile2 pon kitowang akn failed..pastu bleh lak die ckp nk kasi mark utk fnal bdasarkn prangai kitowang..whua whuaa..lg la x tau nk ckp ape..uh!pning pk psal ustaz neh..masuk sem 3 neh bleh dikatekan me dh pnah try wat asgmnt ngan smue bdak class me..dr sem 1-3..so skrg me dh tau yg mane bleh arap wat keje n yg mane goyang kaki je..yg diowang tau keje dh siap,mark pon dpt..senang idop diowang..so for next sem..me rase me dh bleh plih group yg lbih baek..n x yah nk pning2 kpale lagik..next sem me ade culinary art..ngeh ngeh`..senior2 kate besh..huhu!ape la me nk ukir nanti ek..akkekek!
Lot's Of Luv,
NiEjA MuHaImI ®*
|
---
Sunday, May 08, 2005
11:57 AM

pnat pnat..uh!x tau nk ckp pe..dh ar pg td smpai kul 5lbih umah pastu baru je tdo dlm kul 7.00am dlm kul 8.00am my mom kjutkan nk kna g court lak..uwarghh!kalo ikotkan ati mls jew nak pegik..lpas mndi..dlm ul 8.15am kitowang [pa,ma,chox,faris,adik n me]smpai kat court pasir puteh dlm kul 9.05am..pastu polis tu pngil sruh bace blk report yg 2thn lpas..kire sruh bsdia ar nanti die tnye soxlan nanti..uh pnat gile mnggu..smpai kul 1lbih dgn x mkn ape lagik..lapor gile..last2 die ckp postpone lak 5 julai neh coz owang tu nk wat rayuan ape lagik ntah..brape puluh kali nk wat rayuan x tau..dh tau slah mgaku jew la..myusahkan owang btol la..saket ati pon ade x reti ke me neh pnat..urghh!tnsion..pastu g lunch after lunch g clinic mmber my dad lak..dr nasir n dr namaziah..tngu pnye la lame..my dad nk g tgk alat sonotron die..alat camtu je dh bpuluh ribu..iskk!pastu my dad pon try ar wat gune alat sonotron tu..n dlm prancangan nk bli kot..!hm clinic dr nasir n dr namaziah tu lbey kurang jew ngan clinic my dad but cume clinic die still gune system card..(manual),kire lmbat ar cara pkerja2 die wat krja..ntah die ckp die ade reason sdiri psal xmo gune computer..wuteva!pastu dlm kul 4lbih die ajak g umah die lak..aiyoo!pastu siap sruh me rest2 dlu kt umah die..me neh kalo dh t'tido jwbnye x bgn dh la pnat gile..thn jew la mata neh..huhu~ dlm kul 6.10pm baru kitowang blk umah..smpai umah dlm kul 7lbih trus mndi+smyang plan trus nk tido pastu xleh nk tido lak..then try call syafa n nana..isk bile nk jmpe diowang neh sok mayb me ikot my mom n adik blk kaybee coz adik ade appoiment kat husm lak..pnatnyeeeeeee!!!!~
Lot's Of Luv,
NiEjA MuHaImI ®*
|

urghh!kpenatan tahap max..!smlm after blk exam trus lpak2 ioi mall jap ngeh ngeh`..biase ar b4 blk shping2 sket..g bli present mother's day..dlm kul 3lbih br blk umh..lpas lunch bsh bju+packing brg..lpas packing brg trus mandi coz takot dh lmbat..dlm kul 6.25pm kitowang[me,na,nat n abg am] gerak g tngu teksi at dpn ioi..kbulan emy tgh break time tu so die dtg ar jap b4 kitowang gerak..pastu tngu bas kat dpan hspital..sib baek x lame tngu..smpai larkin dlm kul 8.00pm then trus g mkn..pastu tngu abg na dtg jmpe na..dlm kul 9.00pm kitowang naek bas..nat blk t'ganu..abg am blk pnang..me n na naek bas blk klntan..but me brenti kat setiu..huhu!urghh~pnat gilew..tido pn tdo2 ayam jew..dlm kul 5.00am me trun kat setiu..dlm kul 5.10am my bro,ewan dtg amek..very2 tired!!!uwarghh!!!~
Lot's Of Luv,
NiEjA MuHaImI ®*
|
---
Saturday, May 07, 2005
11:47 PM

luv ya mom..epi mothers day..muachxx..;)

Lot's Of Luv,
NiEjA MuHaImI ®*
|

This song means a lot to me...The words are beautiful...My mom is the most beautiful thing that ever happened in my life...I Love You Mom!!! A Song For MaMa You taught me everything And everything you've given me I always keep it inside You're the driving force in my life, yeah There isn't anything Or anyone I can be And it just wouldn't feel right If I didn't have you by my side You were there for me to love and care for me When skies were grey Whenever I was down You were always there to comfort me And no one else can be what you have been to me You'll always be you always will be the girl In my life for all times Chorus: Mama, mama you know I love you Oh you know I love you Mama, mama you're the queen of my heart Your love is like Tears from the stars Mama, I just want you to know Lovin' you is like food to my soul You're always down for me Have always been around for me even when I was bad You showed me right from my wrong Yes you did And you took up for me When everyone was downin' me You always did understand You gave me strength to go on There was so many times Looking back when I was so afraid And then you come to me And say to me I can face anything And no one else can do What you have done for me You'll always be You will always be the girl in my life
Lot's Of Luv,
NiEjA MuHaImI ®*
|
ngeh ngeh`..finally abes jgak exam neh..arinie last paper Front Office..smlm x study..so arini jwb maen hentam jew..lalalal~wuteva mls nk pikir lg..2nite we all blk kampung..lalalal~besh2..rilly2 miz my fmily..;)
Lot's Of Luv,
NiEjA MuHaImI ®*
|
---
Friday, May 06, 2005
12:14 PM
hye peepz..!huhu~ epi bezday 2 my bluved frenz,na..n also 2 oko a.k.a nashrex..epi bezday ya..smlm we all celeb gegitu bezday na jew coz xde air..hoho~ bodohnye college bil air x byr..smpai 800++ uhux!bengom jew..2day me exam paper HR..ceyt!smlm mase tnye mr rafi soxlan recruitment masuk ke x..die kate x..die kate yg blajor jew masuk..skali tgk soxlan..perghh!susah nk mampos..but me dpt jwb gak ar..soxlan essay 2 jew yg x confident..huhu!arap2 result nanti okie..~amin~
Lot's Of Luv,
NiEjA MuHaImI ®*
|
---
Thursday, May 05, 2005
6:13 PM
hoho~ 2day kitowang dtg clge..dtg jumpe mr rafi..tnye psal exam HR..huhu!buhsan gilew..dh lew ujan 2day..urgh!
Lot's Of Luv,
NiEjA MuHaImI ®*
|
---
Wednesday, May 04, 2005
12:58 PM
baBb3eeE..!!urghh suck..!!!bnci..x dpt jwb account td..ngeh ngeh`..mampos la mls nk pikir lagik..juz tngal 2 paper jew lagik..HR n FO..2morrow xde paper..td after kuar hall jmpe ngan ustaz then die bgtau rmai yg failed agama..failed..?!utak die..kalo nk ikot care die bg markah bdasarkan prangai kitowang..shit!kalo camnie pointer me mmg jatuh gilew ar sem nie..huwaAaaAa..suCkkKkKk..!!!!
Lot's Of Luv,
NiEjA MuHaImI ®*
|
---
Tuesday, May 03, 2005
10:54 AM
ngeh ngeh`..2day bgn awl lg..urghh!plan x mo dtg clge but tpkase gak dtg coz kna siapkan report utk antr kat hotel sofitel..leceh ah..group laen wat kat hotel laen x yah report2 pon..uh!dh la arini kna antar..but myb kitowang x antr lg kot..mampos me kalo staff kat sofitel 2 call..tpakse la off 013 me..wakkaka!smlm cam biase ar tgh2 mlm on 013 maen msg free..then rmai yg sms me bgtau psal skrg susah nk contact me..asyek x dpt jew..uhux!017 me line jb pon kekdg jew dpt..sorie frenz me xbley bgtau no 017 me yg baru tu..tu juz utk my fmily+my bf jew..ngeh ngeh`..bdak2 umah me sdiri pon xde yg tau..roomate me pon smue x tau..uhux!but sumtimes rase buhsan gak..rase cam nk bgtau je..but..uh forget it..me xmo di kaco..!so time me nk tido+study<--ngeh ngeh`..bleh la on no baru neh..xde owang kaco..privacy..uhux!bengom ah cc neh psal tetibe xbleh bukak fster..buhsan!pasni nk g jumpe lect lak..lalalala~ sok paper account..!!!mlm neh tpakse la kna study gakk..huh!me x mo kantoi!xmo pointer jatuh lagik..huwaa!!!
Lot's Of Luv,
NiEjA MuHaImI ®*
|
---
Monday, May 02, 2005
10:44 PM
ngeh ngeh`..epi bezday 2 my bluved kazen,baby..!n also 2 abg angkt me jamie mc kee kat london tu..uwargghh!2-3ari neh asyek bgn awal..ntah la psal..kalo bgn awl tido pon awl xpe..neh same jew..huwaaa~ arini duk umah duk bace note HR ngan FO je..account.,.?whuaa2 x sntuh pon lagik..rabu neh paper account huwarghh!nk jwb ape neh..
Lot's Of Luv,
NiEjA MuHaImI ®*
|
ngeh ngeh`..epi bezday 2 my bluved kazen,baby..!n also 2 abg angkt me jamie mc kee kat london tu..uwargghh!2-3ari neh asyek bgn awal..ntah la psal..kalo bgn awl tido pon awl xpe..neh same jew..huwaaa~ arini duk umah duk bace note HR ngan FO je..account.,.?whuaa2 x sntuh pon lagik..rabu neh paper account huwarghh!nk jwb ape neh..
Lot's Of Luv,
NiEjA MuHaImI ®*
|
---
Sunday, May 01, 2005
10:34 PM
wuhuu~ ari neh ari pkerja..n arini gak bezday mmber me..neway epi bezday 2 my bluved frenz,syafa..ngeh ngeh`..rendu sgt2 nak jumpe die..ngatkan dpt celeb bezday die..xpe me blk neh kitowang nk celeb..ngeh ngeh`..me juz sms jew die..pastu rase cam x besh je..so me call die..lbih 10kali tp x dpt..uwaaa~ sedey..xpe la at least wish gak..present..?tngu la me blk..ehex..!2day xde wat pe juz mlepak kat umah..study..?lalalla~ xbukak bku pon..
Lot's Of Luv,
NiEjA MuHaImI ®*
|
---
Paste Counter code here!